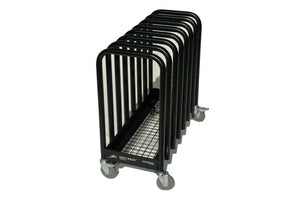 The Warrior Weight Vest Rack has a steel wire storage shelf with a raised edge to keep thing from falling out. You can use the shelf to store all your extra weight inserts or store your Shoe Weights, Hand Weights and /or Ankle Weights.
The Weighted Vest Rack comes with heavy-duty wheels so you can move your weighted vests easily from place to place. After rolling the rack into position you can lock it in place with the wheel locks. Roll your vests easily from room to room, roll the to the practice field, and roll them into a corner or closet to store them.
The Weighted Vest Rack has a heavy welded steel frame and comes fully assembled. It is ready to go out of the box. You can place it directly of the floor or screw on the heavy-duty wheels to make it mobile. (Wrench is included.)
The Weighted Vest Rack makes life easier for everyone. Weighted vests can be a major problem. Users tend to leave the vests piled up on the dirty floor, creating an immovable mass. With the Weighted Vest Rack™users can easily slide their vest on and off the rack. This helps to keep the vests and your floors clean.
The Weighted Vest Rack makes it easy to check you inventory and helps to keep vests from disappearing. With a glance you and/or the users can see that all the vests are in place. The user can also quickly pick out the vest they want to use and with the storage shelf, they have somewhere to get or place extra weights.
The Weighted Vest Rack open design allows air to flow on the inside and outside of the vests. This help to keep the vests fresh and ready to use.
The Weighted Vest Rack is easier and safer to use. The low profile slide over design minimizes the lifting required. Before the Weighted Vest Rack users tried to put their weighted vests on hangers, this proved to be a very difficult operation, hangers and closet rods failed since they were not strong enough to support the vest weight.
The Weighted Vest Rack supports the vests securely on three sides. Just attach the straps to the front of the vest and slide the vest over the support tube. Removing the vest is easy too.