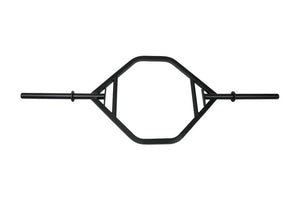 Introducing the Warrior Black Olympic Hex Bar - Master deadlifts and build strength with precision and ease! Designed to elevate your workout experience, this bar boasts an array of remarkable features that make it stand out from the crowd.
The Warrior Black Olympic Hex Bar is not only performance-driven but also aesthetically pleasing. The Black Oxide coating adds a touch of elegance and, at the same time, protects the bar from corrosion, guaranteeing that it retains its striking appearance even after countless intense workouts. Crafted with beginners in mind, this bar is thoughtfully engineered to offer a user-friendly experience, allowing novices to feel comfortable and confident in their lifting journey.
One of the key advantages of the Warrior Black Olympic Hex Bar is its hexagonal design, which promotes a more natural lifting posture, significantly reducing stress on your lower back compared to traditional barbells. This ergonomic design ensures that you can focus on perfecting your form and technique, all while minimizing the risk of injuries.
Specifications:
| | |
| --- | --- |
| Weight | 25kg/55lb |
| Length | 65" |
| Coating | Black Oxide |
Experience less stress on your lower back, allowing you to focus on achieving your fitness goals with confidence and determination. Elevate your deadlifting game with the Warrior Black Olympic Hex Bar today!