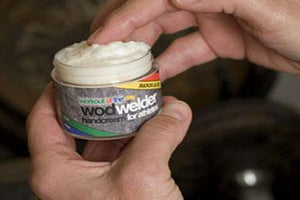 Warrior W.O.D. Welder Handcare Kit - First Aid for Hands
W.O.D. WELDER HANDCARE KIT
It used to be an understood consequence of high-rep weight training: dry, calloused hands lead to blisters and abrasions which lead to fewer workouts. The W.O.D. Welder Handcare Kit offers a simple 3-step solution to this problem. Rather than just putting a layer between your skin and the bar like wraps or gloves, this kit works below the surface to properly hydrate the hands, sand down thick calluses, and condition the skin to handle even the most intense training—be it barbell work, ropes, dumbbells, pull-up bar, etc.
W.O.D. Welder Solid Salve
A stick of this stuff, applied frequently, helps keep the hands moisturized better than water based lotions while also working as an anti-bacterial and repairing existing rips and tears. The salve's all natural ingredients include Lanolin, beeswax, aloe butter, shea butter, peppermint and eucalyptus.
Natural Pumice Stone
The best way to prevent shredded hands in the gym is to maintain smooth, uniform palms outside of it. W.O.D. Welder's wild volcanic pumice stones are harvested in California and more abrasive than the ones you tend to find in a drug store—making them ideal for smoothing out calluses and dry skin in your spare time.
Hands as Rx Cream
Finally, the daily use of this unique skin cream will ensure your hands maintain their hydration and elasticity without breaking down the controlled calluses you need to get your work in.
Three simple products, one kit. More time in the gym, less time on the shelf. That's what you're getting with the W.O.D. Welder Handcare Kit.
Adding product to your cart
Use left/right arrows to navigate the slideshow or swipe left/right if using a mobile device