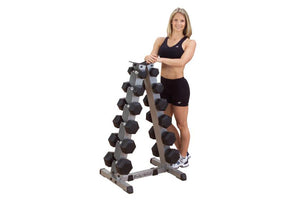 A great design creates storage space out of thin air with this 2-tier Vertical Dumbbell Rack. Safe and easy storage for up to 6 pairs of hex-shaped dumbbells (up to 35 lbs each).
The unique design of this rack means that each level is off-set, so you can grab any dumbbell without obstruction and without risk of tipping or crashing. And the narrow, tall shape means you can place it virtually anywhere: in a corner, against a wall, or even in the middle of the room for easy dumbbell access.
And this Vertical Dumbbell Rack is constructed of heavy-gauge steel, so it's virtually indestructible and super durable.