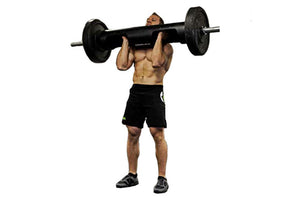 One the toughest strongman tools available. The Strongman Log, or Farmer's Walk Log, is a specialized tool for training. The neutral grip reduces stress on the shoulders without inhibiting strength or power.
Presses, cleans, jerks, squats and rows; the versatility is phenomenal. 9" of loadable end space on the 33 kg log, and 13 1?2" of loadable space on the 50 kg log.
Perfect for helping to develop a strong back and plenty of grip strength.
Work your legs, arms, shoulders, back, glutes and abdominals!
Logs are 5 in. thick with raised, 6" knurled handles.
36 inches in length with 12 inch Olympic sleeves added onto the ends.
Weighs approximately 90lbs per pair.
Chrome plated collars included.
Available in:
73 lb/33 kg
97 lb/44 kg