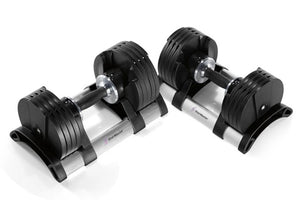 Stairmaster TwistLock Adjustable Dumbbells **SOLD**
The new Stairmaster TwistLock Adjustable Dummbells are the most space efficient and easy-to-use option available today in fact no other adjustable dumbbell weight can be changed as quickly and easily as the TwistLock dumbbell! With a weight range starting at just 5 lbs, this gives users of all fitness levels the opportunity to execute a wide range of exercises in the comfort of their own home without having to purchase the equivalent number of regular dumbbells. No knobs to turn, pins to align, or levers to slide just twist and go!
The patented TwistLock cutting-edge technology allows quick and easy weight adjustments with the simple twist of each dumbbell handle.You never have to take your hands off the dumbbell handles - simply place them into the dumbbell cradle and twist the handle once the desired weight is shown in the readout window, and you are ready to go!
For added safety, the TwistLock weight adjust system can only be made when the dumbbell is docked with the beautifully designed cradles (included) that hold the dumbbells. Nobody wants oversized, bulky, odd shaped dumbbells getting in the way of your training. That is why the StairMaster engineers and designers spent so much time analyzing gym quality, commercial style dumbbells after all, thats what you would prefer to workout with in your own home if you had the space and money to buy them. They made sure the TwistLock design looked like a dumbbell, felt like a dumbbell and delivered results like a dumbbell.
Unlike many other adjustable style dumbbells on the market, the perfectly balanced TwistLock dumbbell delivers the same basic sizes as gym style dumbbells as you increase the weightso whether you are using a 5 lbs or 50 lbs weight, the size of the dumbbell closely resembles the size of the same weight you would use in the gym. The contoured and textured dumbbell handles provide a comfortable and secure grip during your workouts. Taking up such a small amount of space, there is no longer an excuse not to own a complete set of dumbbells. Specifically designed for the home environment, the patented TwistLock Adjustable Dumbbells incorporate numerous thoughtful features that were developed with your performance and comfort in mind.

Adding product to your cart
Use left/right arrows to navigate the slideshow or swipe left/right if using a mobile device