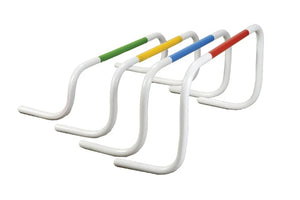 The Champion Sports Speed Hurdle Set is an effective training tool for athletes of all ages and disciplines. This set of plastic hurdles includes one each of four graduated sizes for challenging speed training, and come packaged in a handy nylon carrying bag for convenient transport. Leap over the competition when you train with our Speed Hurdle Set!
• White plastic hurdles
• Graduated sizes for speed training
• Nylon carrying bag included
• Set of 4 (1 of each size) 8", 10", 12" and 14"