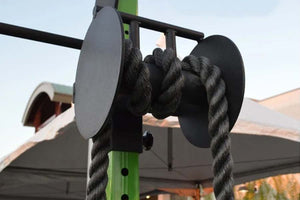 The Warrior Rope Pull Rack Attachment) is a cost-effective tool that incorporates multiple, rope-based exercises into your functional training system. You can do way more than just pulling exercises!
True to Warrior's core principles, all of the 5 basic human movements can be performed with this system - pulling, pushing, locomotion, level changes, and rotation.
To accommodate multiple grip options, handles or slings can be attached to the rope with the help of our exclusive Rope attachment.
Each rope guide's height is adjustable, so the user can vary location as needed.
Rope is NOT included - sold separately