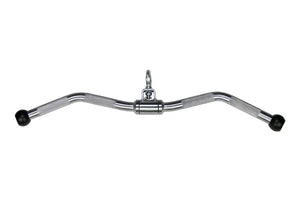 Here are more great features of the Garage Fit curl bar:
EXTRA HEAVY DUTY: Complement your home gym or Cable Smith Machine with a revolving curl bar designed to move some serious weight. The Garage Fit bicep curling bar attachment is forged from heavy duty steel for extra strength, feels solid in the hands, and comes with firmly fixed rubber caps.
SMOOTHEST ROTATING JOINT: Unlike other revolving bars that jam and squeak with every rep, ours feature an impressively smooth rotating joint that pivots without all the racket. The hanger of the revolving curling bar has a lubrication hole to keep it rust and squeak-free through it all.
DESIGNED FOR ISOLATION: Carefully crafted with just the right amount of curl, this cable bar perfectly isolates your muscles to give you a great burn in your biceps. Stimulate your muscles by achieving maximum peak concentration as you work out.
SAFE & COMFORTABLE GRIP: No more slipping as you hit your guns. This rotating curl bar has diamond knurled handgrips for comfortable use. You can use the biceps curl bar glove-free without sweaty palms getting in the way of great form.
BEST VALUE: Heavy-duty design meets great pricing to create a curl bar that gives you the best bang for your buck. Equip your home gym without breaking the bank or skimping on quality by clicking 'Add to Cart' now!