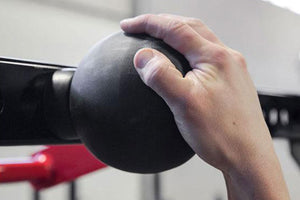 Pull-Up Spheres are dynamic grip strength tools designed exclusively for use with our Rigs and Racks.
A new version of an accessory popularized by gymnasts, martial artists, and rock climbers for training and sustaining better hand strength, Spheres are made from powder-coated 9-gauge steel and can be mounted to any 3" depth tube with 1" holes.
Pull-Up Spheres are sold in sets of two, and are available in your choice of either a 3" or 5" diameter (beginners will want to start with the 3" option, as the 5" size poses a substantially greater challenge).
Fully customizable, you can add just a single pair of Spheres to create a unique pull-up station or line-up a whole series to make your own obstacle course out of a Rig.