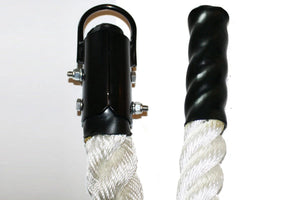 The evolution of fitness to functional movements has sparked a rebirth in the simple yet highly effective art of training with ropes. Ropes are available
in 1" and 2" diameters in both Poly Plus and Class 1 Manila. All ropes ends are secured with heavy duty polyester boots. An industrial grade metal clamp
can also be added to one end to facilitate a secure point or to add attachments to build hand strength. The 2" rope is recommended for battling exercises.