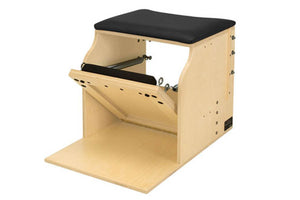 The Single Pedal Low Chair has the same functionality as the classic Wunda Chair but without the added benefit of it converting to a sitting chair. When a varied and challenging chair workout is in order to round out your studios offerings for sessions or group classes, this chair is the one to choose. Its single pedal platform is stable and durable.
Comes in baltic birch with black upholstery.

SKU: 4911-2503-01

FEATURES:
Single wall baltic birch construction
Upholstered seat
Traditional single pedal
Solid wood pedal and comfort grip foot pad
Spring post changing system with 2 standard chair springs
EXCLUSIVE ULTRA-GLIDE TRACKING SYSTEM:
Peak Pilates exclusive spring changing system is thoughtfully designed to make spring-changing quick and trouble free. Each spring has a total of three steel attachment points in the rear and two on the pedal, resulting in 24 possible levels of resistance.
UPHOLSTERY:
We utilize premium Boltaflex® vinyl upholstery for superior abrasion resistance and easy cleaning. The upholstery is finished out to a tee. You will not see any staples. Standard with black upholstery. Call (1) 800.925.3674 to
order from a palette of 64 custom colors.
SPECIFICATIONS:
22in H x 19 1/2in W x 30in L