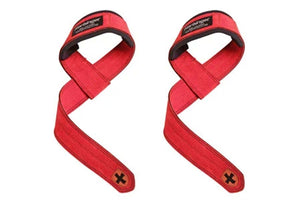 Harbinger's new Padded Real Leather Lifting Straps bring new power and comfort to heavy lifting!
Our specially-tanned real leather offers strong traction on the bar, with no added bulk, and the tri-layer design maintains shape and prevents tearing. The extended 21" length and 1 1/2" width create a stronger wrap and grip on bar through increased contact area on knurled bar surface. Tanned for suppleness as well as strength, Harbinger's Padded Leather Lifting Straps comfortably conform under hand and around bar, and feature a plush Neotek™ wrist pad that cushions during heavy lifts.
No question, the new Padded Real Leather Lifting Straps are a serious training tool in your workout tool chest!