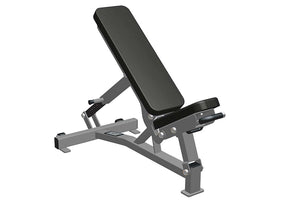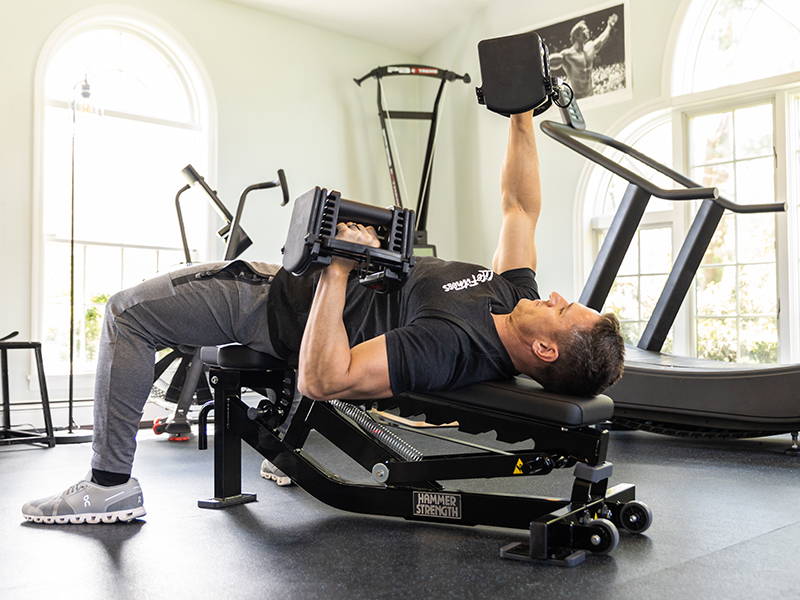 A HOME BENCH WITH DECLINE
Increase the variety of workouts you can do with a 10-degree decline adjustment. The 10-degree decline position is a unique feature among most adjustable weight benches and provides the ability to easily perform decline bench presses with dumbbells or a barbell and rack. The decline position is also excellent for performing various abdominal exercises to target your core.
A PROVEN HAMMER STRENGTH ADJUSTABLE BENCH
Originally introduced in 2016 exclusively for athletics and clubs, the Hammer Strength Adjustable Bench has been an essential tool for coaches and athletes at all levels for years. It was designed to be a multi-functional bench with an Olympic rack system. Thousands of benches have been sold around the world to help coaches and athletes meet their training goals. It is proudly made in the USA at the Hammer Strength factory in Falmouth, Kentucky.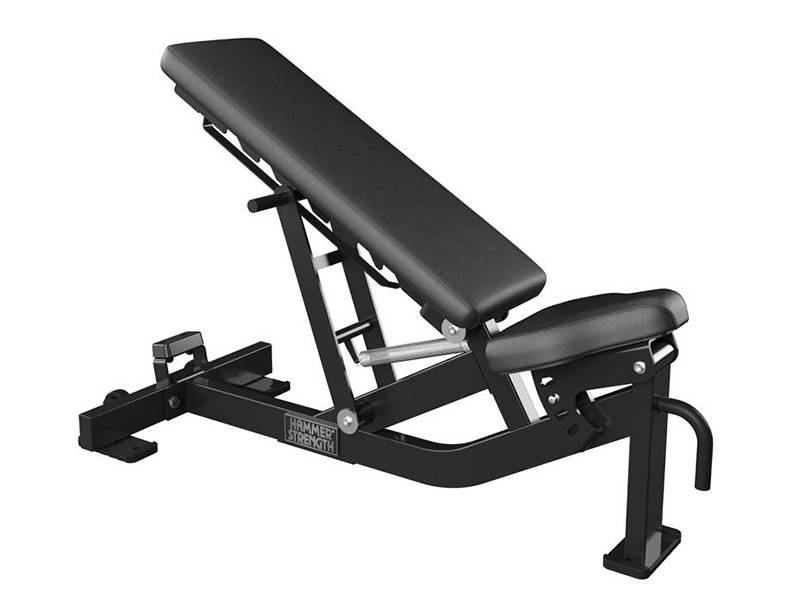 UP TO 33% LIGHTER THAN COMPARABLE BENCHES
Our innovative design makes this bench up to 33% lighter than comparable premium benches, without sacrificing any support to the lifter. The adjustable bench's lightweight design makes it easier to move around your workout area to use on its own, with a rack, or off to the side so you can quickly move from one exercise to the next—something of critical importance for exercisers that like circuit training.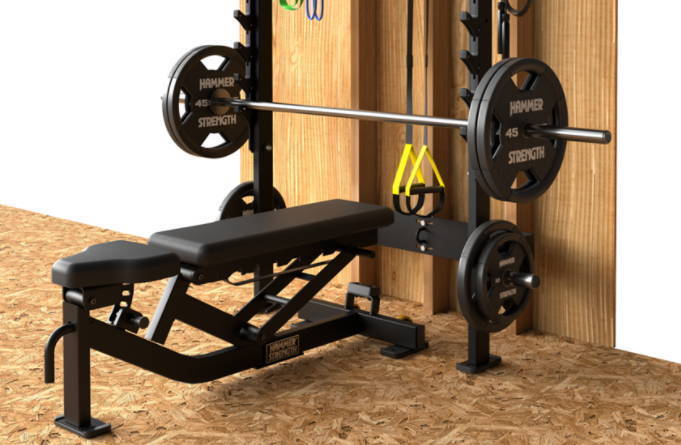 CERTIFIED 845 lbs. LOAD RATING
When you purchase a Hammer Strength bench for your home, you expect it to last a lifetime. The Hammer Strength Adjustable Bench is tested and certified to commercial ASTM and EN standards. Thoughtful engineering and rigorous testing are used to ensure each product lives up to the Hammer Strength standard. We put the equivalent of an elephant on this bench and certified it to an 845 lb. load rating so you can lift with confidence.


| | |
| --- | --- |
| Product Name | HD Athletic Multi-Adjustable Bench |
| Category | Benches and Racks |
| Product Code | HDT-MAB |
| Dimensions (L x W x H) | 52.5" x 22.2" x 18.5" (133cm x 57cm x 47cm) |
| Recommended Live Area (L x W x H) | N/A |
| Product Weight | 85lb (39kg) |
| Max User Weight | 350lb (159kg) |
| Max Training Weight | 495lb (224kg) |
| Weight Stack | - |
| # of Weight Horns | - |