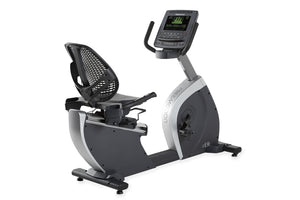 QUICKLIFT™ OVERMOLDED SEAT
For easy, secure seat adjustments, simply lift the lever and quickly slide the seat to the desired position and it locks in place.
2-PIECE CRANK
Freemotion has created a stronger, more durable design and realistic cycling experience. Enjoy a smoother, more comfortable ride.
LARGE, SELF-LEVELING PEDALS
These articulating pedals keep feet level, reducing ankle rotation. Adjust the foot straps for a custom fit and keep feet secure.
BUILT-IN WORKOUTS
Choose between 4 Weight Loss, 4 Speed Interval, 2 Race Training, 2 Hill Climb, Heart Rate and Watts Training workouts with the touch of a button.
24 LEVELS OF DIGITAL RESISTANCE
To burn more calories, crank up the intensity. To improve muscle tone, choose one of the 24 resistance levels.
EKG GRIP PULSE
Keep an eye on heart rate levels with a built-in EKG monitor.
PERSONAL ENTERTAINMENT
Entertainment capabilities make the workout experience even better. Add an optional 15.6 in / 39 cm Personal HDTV Screen.
FRONT AND CENTER
Users can keep an eye on everything that keeps them motivated: speed, resistance, RPM, distance, calories, time, heart rate, watts, and pace on the simplified user interface.
IFIT® SYNC
Experience 'What's Next' in smart training. The console on the u10.9b Upright Bike powered by iFIT goes from simple to interactive when synced with a smart device. As the industry's first "Bring Your Own Device"-solution, the upright bike has resistance matching technology to recreate the actual terrain of video workouts filmed around the world.
STEP-THRU™ DESIGN
This bikes innovative design eliminates the traditional base, making it easier to get on and off the bike.
EVER-GROWING FITNESS LIBRARY
Users have access to a library of 17,000+ workouts built by our expert fitness trainers from around the world. With five training teams on seven continents, workout boredom is a thing of the past.
| | |
| --- | --- |
| Display Type | Simplified User Interface |
| Resolution | N/A |
| Controls | On-handle Digital Controls |
| Workout Metrics | Speed, Resistance, RPM, Distance, Calories, Time, Heart Rate, Watts and Pace |
| Number of Programs | 14 |
| Preset Programs | 4 Weight Loss, 4 Speed Interval, 2 Race Training, 2 Hill Climb, Heart Rate, Watt Training |
| Google Maps | N/A |
| Console Language(s) | EN, ES, DE, IT, PT, CH, NL, FR |
| Featured Languages | EN, also DE, ES, FR, IT, PT, RU, ZH |
| Additional Options | N/A |
ENTERTAINMENT
| | |
| --- | --- |
| TV Tuner | N/A |
| Closed Captioning | N/A |
| Optional Upgrades | Personal HDTV 15.6 in / 39.6 cm with On-Console Controls, 900/800 MHz TV receiver (MYE900RCVR) |
CONNECTIVITY
| | |
| --- | --- |
| Recommended Internet Connection | N/A |
| Ethernet Requirements | N/A |
| WiFi Connection | 2.4 / 5 GHz |
| WiFi Requirements | 10 Mpbs per unit download, 500 Kpbs per unit upload |
| Video Connections | N/A |
| Audio Connections | N/A |
| CSAFE | |
| ECOFIT | N/A |
PRODUCT FEATURES
Crank & Axle

2-Piece Crank

Drive Belt

Quiet Belt Drive System, Hutchinson

Pedals

Oversized, Self-Leveling Pedals

Gear Ratio

N/A

Resistance System

250 Watt Self-Generator Resistance System

Heart Rate Monitoring

EKG Grip Pulse/POLAR Receiver Included

Workout Fan

N/A

Accessory Charging

N/A

Accessory Holder(s)

Water Bottle Holder

Grips

Soft touch, upper-body grips

Seat

Overmolded Quick Adjust Seat

Accessibility

Highly-Accessible Step-Thru™ Design

Positioning

Large Adjustable Leveling Feet

Transport Wheels

2 in / 5 cm plastic transport wheels

Color Options

N/A (Dell Gray is standard color)

Unit Options

Metric or Imperial

Power Options

110-120 VAC, 2 Amp

220-240 VAC, 1 Amp
PRODUCT SPECIFICATIONS
| | |
| --- | --- |
| Maximum User Weight | 400 lb / 182 kg |
| Resistance Levels | 1-24 Levels of Resistance |
DIMENSIONS & WEIGHT
| | |
| --- | --- |
| Product Dimensions L x W x H | 70.9 x 24.5 x 50.8 in / 180 x 62.2 x 129 cm |
| Product Weight | 204.2 lb / 92.6 kg |
| Shipping Dimensions L x W x H | 70 x 17.9 x 30.6 in / 177.8 x 45.4 x 77.7 cm |
| Shipping Weight | 225.1 lb / 102.1 kg |
POWER REQUIREMENTS
| | |
| --- | --- |
| U.S. & Canada | 110-120 VAC, 2 Amp |
| International | 220-240 VAC, 1 Amp |
CERTIFICATIONS
HIGH-USAGE WARRANTY (US & CANADA)
| | |
| --- | --- |
| Frame | 7 Years |
| Parts | 2 Years |
| Console | 2 Years |
| Labor | 1 Year |
| Cosmetic & Wear Items | 6 Months |
HIGH-USAGE WARRANTY (INTERNATIONAL)
| | |
| --- | --- |
| Frame | 7 Years |
| Parts | 2 Years |
| Console | 2 Years |
| Labor | 1 Year |
| Cosmetic & Wear Items | 6 Months |
LOW-USAGE WARRANTY (US & CANADA)
| | |
| --- | --- |
| Frame | 7 Years |
| Parts | 3 Years |
| Console | 3 Years |
| Labor | 3 Years |
| Cosmetic & Wear Items | 6 Months |
LOW-USAGE WARRANTY (INTERNATIONAL)
| | |
| --- | --- |
| Frame | 7 Years |
| Parts | 3 Years |
| Console | 3 Years |
| Labor | 1 Year |
| Cosmetic & Wear Items | 6 Months |