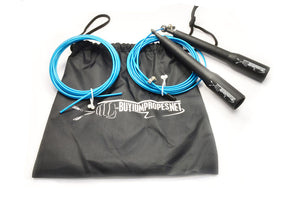 For Athletes, CrossFit & Endurance Training
The new Ultimate Fitness Rope by ELITESRS is a high end fitness, CrossFit and endurance training jump rope for advanced jumpers. This rope combines many of the latest advances in jump rope technology (including swivel tips and dual ball bearings). An extremely smooth and efficient rope will produce effortless speed for experienced jumpers.
Features
Easy Size Adjustments: Metal extension spindles with eyeball-bearing tips make for easy cable adjustments. The cable is 10ft long, and adjustable to be used by people of different heights.
Speed & Control: Metal bearings housed in new ballistic plastic handles make for an effortless and controlled spin.
Durability: Most speed ropes use cheap plastic ball bearings. This has 4 high-grade metal ball bearings, which promote faster turning of the rope and longer durability.
Light weight: The rope is also very light (3.68 oz), making it ideal for endurance workouts.