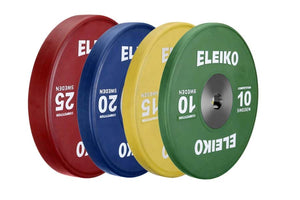 Elegant IWF certified bumper plates feature an imprint of the IWF seal, and vibrant TV ready Olympic palette colors so they are ready for the international stage.
Manufactured with our signature Swedish materials and high quality manufacturing processes, each disc is drop tested 5,000 times to ensure our high standards are met.
These bumper plates feature a molded hard rubber design with two piece hub and an outside edge with grip for safe handling, loading and unloading.
Perfect for home gyms and crossfit.
**THIS EQUIPMENT WAS USED IN ONE COMPETITION AND HAS BEEN ON DISPLAY AT TRADE SHOWS. EQUIPMENT HAS BEEN GENTLY USED BUT IS STILL IN GOOD CONDITION. EQUIPMENT COMES WITH FULL ELEIKO WARRANTY.**
For those times when micro weight changes make all the difference, the Eleiko IWF Olympic Weightlifting Change Plates are certified and calibrated for record setting lifts. The Olympic color scheme coordinates with the weightlifting plates. The discs are rubber coated in vibrant TV ready colors that are both durable and have a good grip.
DISCS SOLD INDIVIDUALLY (1 UNIT)
Warranty terms and conditions
To be dropped on 30 mm-thick rubber flooring (training platform recommended by Eleiko). Indoor use only. Normal wear and tear does not fall under warranty.
Eleiko IWF Olympic Weightlifting Competition/Training Disc Warranty: 5 years