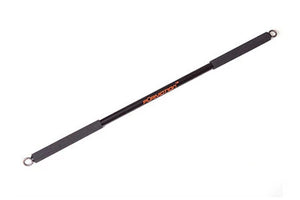 The Core 36 Bars™ are the big brothers of the Core Bar Family. The principle behind the Core Bars is to generate two type of new torques to develop rotational firepower! The first torque is the distance between the user's hands and the loaded anchor point and the second torque is between the bar and the user's core.
Born in the trenches by a 5x Olympian and strength and conditioning coach. This is a New, yet simple way to develop Killer Abs that can produce lots of Rotational Strength and Power. A rock solid, sexy six-pack core is a by-product when you use the PurMotion Core Bars!
Train your CORE MUSCLES the same way you actually use it in real life or your sport!
Use the right VECTORS (direction of load) TO TURN ON FIRE YOUR CORE MUSCULATURE while on your feet!
Baseball players - Increase your Bat Speed or your Throwing power!
MMA fighters, Grapplers, etc - develop intimidating functional core strength to enhance devastating throws, striking and punching power.
Med-balls and Sledgehammers use inefficient vector loading and do not challenge the rotational component of the core muscles as the Core 36 Bar can do for you.
If rotational strength and power is what you want to achieve, these Core Bars™ are what you've been looking for!
After years of studying and training athletes, we have developed a simple, yet effective way to increase core rotational speed, strength and power for hitting, throwing, and other cross-body loaded movements.
Use with resistance bands or cable machine for a variety of completely unrestricted fitness exercises!
Core 36 Bars™ are the same high-quality aluminum bar as the Core 12 Bar with band attachments and precision bushings, but this bar has an increased length of 36", which heightens the resistance level when used with bands or cable machine.