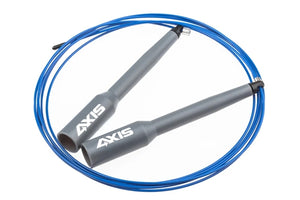 Premium Materials: Axis Jump ropes are made from the best materials available. The handles are Glass-Filled Nylon, guaranteed never to break – even if stepped on! The 3.2mm rope is an abrasion resistant PVC-blend which will not kink or hold coil. The 2.4mm super-speed rope is made of premium nylon and will hold up for thousands or double-under. Both ropes will lay flat when not in use.
Adjustable: The Axis Ropes can be adjusted to any user from 6'6" and below. Any Phillips screwdriver will adjust the rope and the excess cable should be trimmed before use.
Cable Options: We recommend the Green 3.2mm Speed rope for most novice and intermediate users. The 2.4mm Super-Speed rope is the fastest rope available for the most advanced users performing double and triple-unders.
Handle Options: Both Axis rope are available in either sealed ball bearing or polymeric bushing versions. Nothing beats the speed and smoothness of ball-bearing, but for the cost-conscious users or those who leave the ropes out in humid or outdoors environments – the bushing version will be a great choice! Axis handles are (150mm/6.0" long) and (15mm/0.60") in diameter.