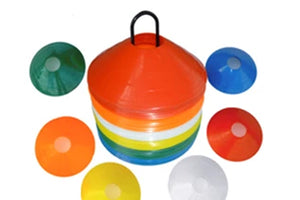 The APOLLO ATHLETICS high quality Cone Set includes 60, multi color* 2" low profile cones with a convienent carry/storage holder. The portable, extremely durable cones are manufactured with safety in mind, and are made from soft, low density poly ethylene to help prevent injuries if fallen upon, and will not break when stepped on. They can be used on all surfaces both indoors and outdoors, and because they are bright, multicolored, they are highly visible.
The Cone Set provides the ultimate versatile training aid for athletes looking to improve their speed and precision. Used by coaches at all levels, cone training can maximize your acceleration, deceleration and agility. They are the perfect tool for soccer, football, lacrosse, field hockey and all other sports where being quick and agile are key.
The cones can also be used in many settings to mark boundaries, set up a training regime forcing change of speed and direction, and can be used to create goals for small sided games, etc.
* Both Home and Commercial Usage
* Colors: green, blue, orange, red, yellow, and white, 10 discs of each color
* Dimensions: 7.5-inch diameter x 60 pieces of individual disc
* Total Weight: 4 LBs
* Warranty: 120 days Limited Warranty