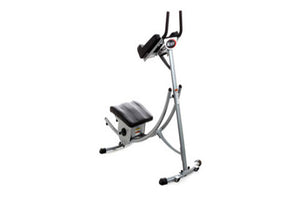 For athletes who take their home gyms seriously, the Ab Coaster is a must-have device to professionally hone your abdominal training.
A lot of thought went into the design of this exercise device, which works your abs from the bottom up (unlike plain old crunches) to limit stress on your upper body and
back.
You get core contraction with every action, and a seat that's designed to adjust for specific targeting of abdominal muscles groups.
You can target your upper abs, lower abs or obliques.
The Ab Coaster's heavy-duty steel frame supports up to 300 lbs per user, with front roller wheels for easy transport and the option of adding weight plates up to 20 lbs of resistance (weight plates sold separately).
A digital workout counter keeps track of your reps so you don't have to. The ergonomic, multi-angle adjustable seat helps target obliques and can accommodate users from 4'10" to 6'10" with zero adjustment necessary.
The molded foam pads are vinyl-covered so you don't have to worry about the effects of heavy sweat.
FEATURES
New Stronger Thicker Handle
400lb User Weight Capacity
30lb Weight Capacity
All Steel Construction
Free-Style Motion Seat
Urethane Molded Padding
Ultra-Glide Nylon Rollers
Stainless Steel Rails
Dimensions: L 53" W 27" H 53"
Unit Weight: 90lbs
Warranty: Extended