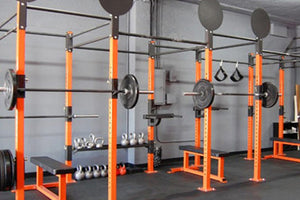 Great for Affiliate Boxes, Functional Training, Mixed Martial Arts, Boot Camp, Police and Fire Gym, public and private school gyms.
This pull up/squat and bench rigs are full commercial quality.
Built with a combination of heavy duty 7 and 11 gauge steel at 3" X 3" tubing. 3-4" holes spaced at 2" with a flush, durable j-hook style.
Standard width is 5' and standard height is 8' with 1 1-4" pull up bar diameter for each single pull up connector.
Completely modular so you have the option to order more uprights in the future to expand your rig.
Each rig comes with a pair of j-hooks per every 2 squat/bench stations.
Each upright has an 8" X 8", 1-4" thick plate to anchor the unit down, all rigs must be anchored down.
Shown with optional attachments.
Manufactured in the USA!
Raw metal pull up bar or standard wrinkle finish.
Double, single, triple, or off set pull up bars available.
Pull up height is adjustable depending on upright height
Anchor kits are not included