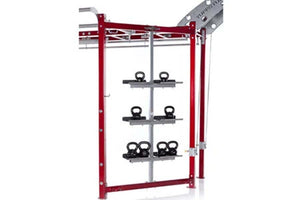 Kettlebell training forces the entire body to perform functions that build strength while engaging multiple muscle groups simultaneously.
Used for strength training in Europe for decades, the kettle bell is a ball of iron with a handle, that has steadily gained popularity in fitness centers across America.
Kettles are easy to handle, simple to engage and effective for class or individual use.
Kettle muscle integration works lower body, upper body, coordination and strength at the same time with dynamic routines that deliver dramatic results.
The multi-tiered rack also keeps your kettlebells, smash balls, medicine balls and small dumbbells organized and ready for action or storage.