The Life Fitness Total Body Arc Trainer Elliptical provides effective, low-impact training with less knee stress than walking.
The 21 incline adjustments result in motions that mimic gliding, striding and climbing.
Up to 1200 watts of available power make the Arc Trainer perfect for both strength and power training.
Color: Arctic Silver
EFFECTIVE AND VERSATILE CARDIO TRAINER
The Life Fitness Total Body Arc Trainer is gentler on joints than walking, while providing more calorie burn than similar fitness equipment. Total-body configuration allows exercisers of all fitness levels to engage their whole bodies while on an alternative-motion cross-trainer.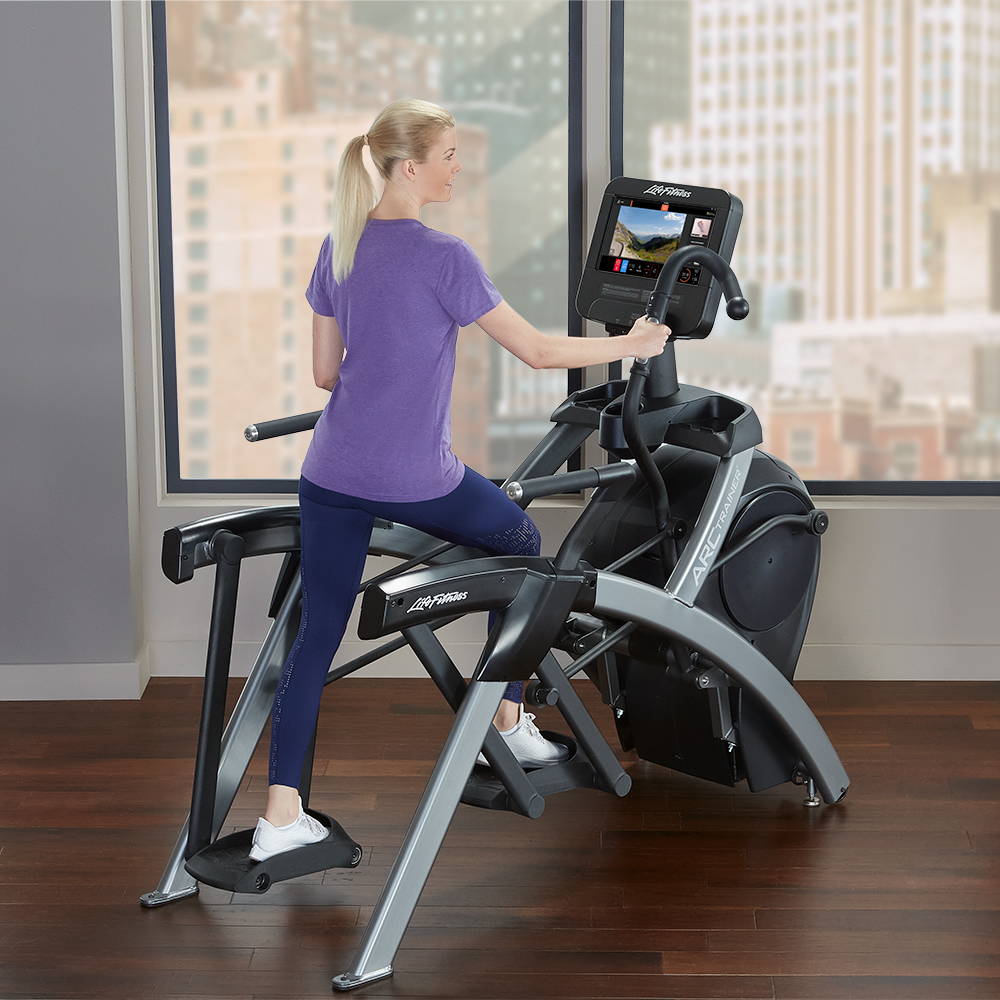 KEY FEATURES
UNIQUE POWER WORKOUTS
Constant Power lets you maintain a consistent effort level without worrying about changing the speed. Adaptive Power makes it easy to do interval training by moving faster or slower as resistance scales with speed.
BACKED BY SCIENCE
An arc motion engages muscles similar to running while being easier on the joints.
C Console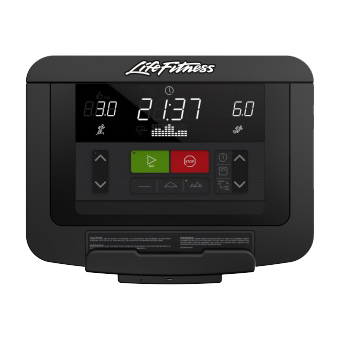 | | |
| --- | --- |
| Screen | An easy-to-use interface with LED screen and workouts for those who just want to get on and go |
| Workouts | Manual, Quick Start, Hill, Random |
| Controls | Membrane Buttons |
| Wearable Compatibility | N/A |
| Entertainment | N/A |
X Console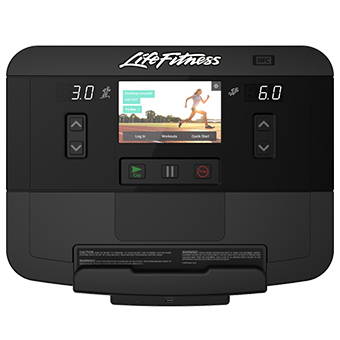 | | |
| --- | --- |
| Screen | A 7" touchscreen and engaging workout experience through NFC and Bluetooth connectivity |
| Workouts | 21+ Quick start/Up to 30 total workouts possible |
| Controls | On touch screen keypad, on entertainment rack channel up/down, volume up/down |
| Wearable Compatibility | Compatible with Polar and Bluetooth straps |
| Entertainment | N/A |
ST Console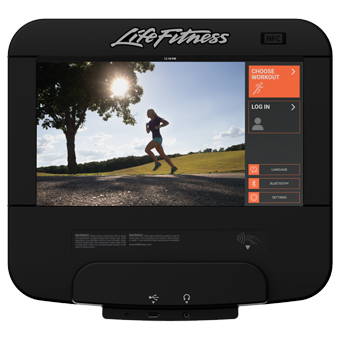 | | |
| --- | --- |
| Touch Screen | ST Treadmill: 21.5" (54.6 cm) ST Non-Treadmill: 16" (47 cm) |
| Connectivity | Internet (wired or wireless), proximity login via Bluetooth® and NFC |
| Entertainment | Integrated high-definition TV, interactive workout options |
| Streaming Entertainment Apps1 | N/A |
| Wearable Compatibility | N/A |
SE3 HD Console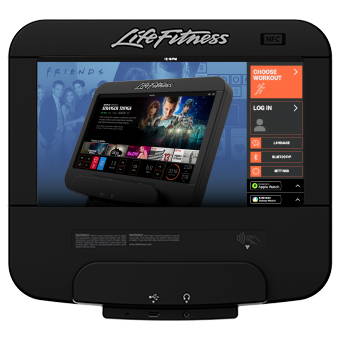 | | |
| --- | --- |
| Touch Screen | SE3 HD Treadmill: 21.5" (53 cm) 1080p touch screen SE3 HD Non-Treadmill: 16" (41 cm) 1080p touch screen |
| Connectivity | Internet (wired or wireless), proximity login via Bluetooth® , NFC, or RFID |
| Entertainment | Video streaming apps, Lifescape and RunSocial (treadmills), RideSocial (non-treads), interactive courses, TV, integration with popular fitness apps |
| Streaming Entertainment Apps1 | Netflix™, YouTube™, The Economist™, ESPN® , Newsy® , Flipboard® , Pandora® , Internet Browser |
| Wearable Compatibility | Apple Watch® , Samsung Galaxy Watch® |
| | |
| --- | --- |
| Resistance Range | Up to 1200 Watts at 180 SPM (100 resistance levels) |
| Incline Levels | 0 - 21 |
| Incline Levels (Muscles Activated) | 0 - 6 (calves, glutes, hamstrings); 7 - 14 (calves, glutes, hamstrings, quads); 15 - 21 (quads) |
| Stride Length | 24" (61 cm) |
| Handles | Curved multipgrip handles with remote resistance and incline buttons |
| Cruiser Grips | Yes |
| Remote Heart Rate | Yes, integrated heart rate monitoring on contact handles |
| Finish | Corrosion, stain, and chemical resistant coating |
| Frame Color | Arctic Silver |
| Max User Weight | 400 LB (181 KG) |
| Dimensions (L x W x H) | 76.5 in x 36.25 in x 62.5 in (194 cm x 93 cm x 159 cm) |
| Unit Weight | 412 LB (187 KG) |
| Power Requirements (voltage outside U.S. may vary) | All major voltage configurations |
| Warranty (warranties outside the U.S. may vary) | Frame: 2 Years; Mechanical: 2 Years; Labor: 1 year |